Gaia Mosconi, M.A.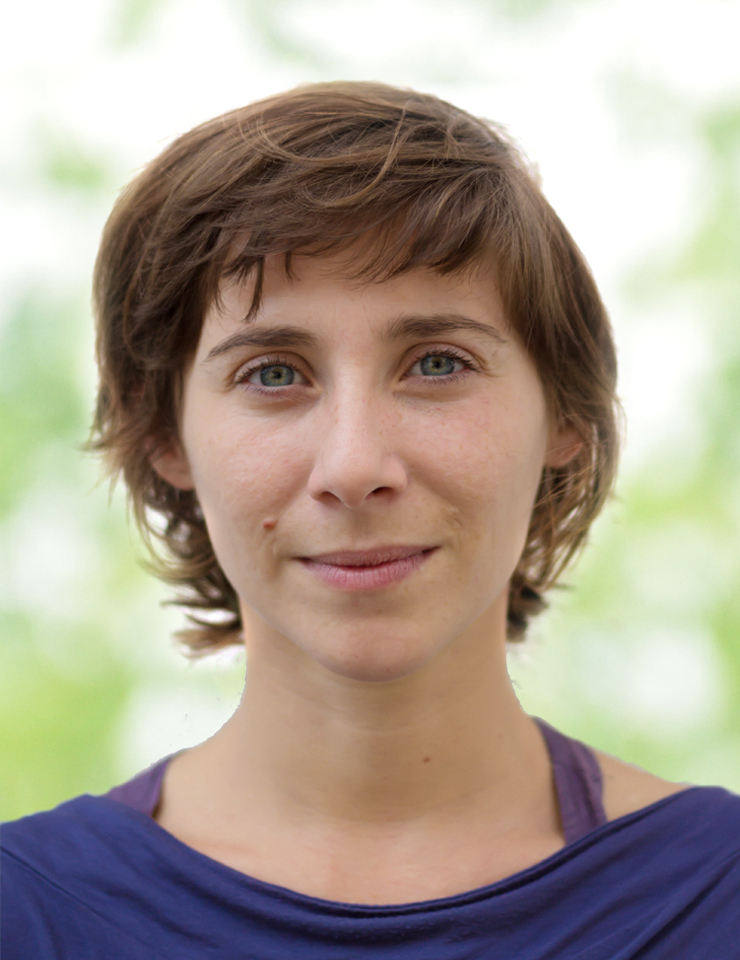 gaia.mosconi(at)uni-siegen.de
Room: US-D 102
Phone: +49 (0) 271/ 740 – 5265
Vita
Gaia Mosconi has a multidisciplinary background that combines architecture and urban planning (specific focus on social housing, participatory urban planning, commons creation), sociological research (specific focus on Qualitative Research, Action-Research, Territorial Development) and information technology (specific focus on digital media). She graduated at the university of Trento on 2015 with a Master thesis on "Digital technologies and urban commons. The case study of Social Street". The aim of this project was to generate large governance for urban commons (involving citizens, public administration and social service) starting from organizing events and activities in the neighbourhood by actively using Facebook. Afterwards, she got a post-master in "Smart Community design and management". Currently, Gaia Mosconi is researcher and doctoral student at the University of Siegen within the group on CSCW and Social Media (Prof. Dr. Volkmar Pipek ). In particular, she is involved in EmerGent, a project which is currently working on getting the public (citizens, social structures, industrial companies) involved in crisis management as an active partner. Within EmerGent, Gaia will share her experiences as qualitative researcher on social media participation and civic engagement.
---
Publications
2022
---

Mosconi, G., Randall, D., Karasti, H., Yu, T., Tolmie, P., Pipek, V., Randall, D., Karasti, H., Yu, T. & Aljuneidi, S. (2022)

Designing a Data Story: A Storytelling Approach to Curation and Sharing in Support of Ethnographically-driven Research

doi:10.1145/3555180
[BibTeX] [Abstract]

In this paper, we introduce an innovative design concept for the curation of data, which we call 'Data Story'. We view this as an additional resource for data curation, aimed specifically at supporting the sharing of qualitative and ethnographic data. The Data Story concept is motivated by three elements: 1. the increased attention of funding agencies and academic institutions on Research Data Management and Open Science; 2. our own work with colleagues applying ethnographic research methods; and 3. existing literature that has identified specific challenges in this context. Ongoing issues entailed in dealing with certain contextual factors that are inherent to qualitative research reveal the extent to which we still lack technical design solutions that can support meaningful curation and sharing. Data Story provides a singular way of addressing these issues by integrating traditional data curation approaches, where research data are treated as 'objects' to be curated and preserved according to specific standards, with a more contextual, culturally-nuanced and collaborative organizing layer that can be thought of as a "Story". The concept draws on existing literature on data curation, digital storytelling and Critical Data Studies (CDS). As a possible design solution for Research Data Management and data curation, Data Story offers: 1) a collaborative workflow for data curation; 2) a story-like format that can serve as an organizing principle; 3) a means of enhancing and naturalizing curation practices through storytelling. Data Story is currently being developed for deployment and evaluation.

@book{mosconi_designing_2022,
title = {Designing a {Data} {Story}: {A} {Storytelling} {Approach} to {Curation} and {Sharing} in {Support} of {Ethnographically}-driven {Research}},
shorttitle = {Designing a {Data} {Story}},
abstract = {In this paper, we introduce an innovative design concept for the curation of data, which we call 'Data Story'. We view this as an additional resource for data curation, aimed specifically at supporting the sharing of qualitative and ethnographic data. The Data Story concept is motivated by three elements: 1. the increased attention of funding agencies and academic institutions on Research Data Management and Open Science; 2. our own work with colleagues applying ethnographic research methods; and 3. existing literature that has identified specific challenges in this context. Ongoing issues entailed in dealing with certain contextual factors that are inherent to qualitative research reveal the extent to which we still lack technical design solutions that can support meaningful curation and sharing. Data Story provides a singular way of addressing these issues by integrating traditional data curation approaches, where research data are treated as 'objects' to be curated and preserved according to specific standards, with a more contextual, culturally-nuanced and collaborative organizing layer that can be thought of as a "Story". The concept draws on existing literature on data curation, digital storytelling and Critical Data Studies (CDS). As a possible design solution for Research Data Management and data curation, Data Story offers: 1) a collaborative workflow for data curation; 2) a story-like format that can serve as an organizing principle; 3) a means of enhancing and naturalizing curation practices through storytelling. Data Story is currently being developed for deployment and evaluation.},
author = {Mosconi, Gaia and Randall, Dave and Karasti, Helena and Yu, Tong and Tolmie, Peter and Pipek, Volkmar and Randall, Dave and Karasti, Helena and Yu, T and Aljuneidi, Saja},
month = nov,
year = {2022},
doi = {10.1145/3555180},
}
2019
---

Mosconi, G., Li, Q., Randall, D., Karasti, H., Tolmie, P., Barutzky, J., Korn, M. & Pipek, V. (2019)

Three Gaps in Opening Science

IN Computer Supported Cooperative Work (CSCW), Vol. 28, Pages: 749–789 doi:10.1007/s10606-019-09354-z
[BibTeX] [Abstract] [Download PDF]

The Open Science (OS) agenda has potentially massive cultural, organizational and infrastructural consequences. Ambitions for OS-driven policies have proliferated, within which researchers are expected to publish their scientific data. Significant research has been devoted to studying the issues associated with managing Open Research Data. Digital curation, as it is typically known, seeks to assess data management issues to ensure its long-term value and encourage secondary use. Hitherto, relatively little interest has been shown in examining the immense gap that exists between the OS grand vision and researchers' actual data practices. Our specific contribution is to examine research data practices before systematic attempts at curation are made. We suggest that interdisciplinary ethnographically-driven contexts offer a perspicuous opportunity to understand the Data Curation and Research Data Management issues that can problematize uptake. These relate to obvious discrepancies between Open Research Data policies and subject-specific research practices and needs. Not least, it opens up questions about how data is constituted in different disciplinary and interdisciplinary contexts. We present a detailed empirical account of interdisciplinary ethnographically-driven research contexts in order to clarify critical aspects of the OS agenda and how to realize its benefits, highlighting three gaps: between policy and practice, in knowledge, and in tool use and development.

@article{mosconi_three_2019,
title = {Three {Gaps} in {Opening} {Science}},
volume = {28},
issn = {1573-7551},
url = {https://doi.org/10.1007/s10606-019-09354-z},
doi = {10.1007/s10606-019-09354-z},
abstract = {The Open Science (OS) agenda has potentially massive cultural, organizational and infrastructural consequences. Ambitions for OS-driven policies have proliferated, within which researchers are expected to publish their scientific data. Significant research has been devoted to studying the issues associated with managing Open Research Data. Digital curation, as it is typically known, seeks to assess data management issues to ensure its long-term value and encourage secondary use. Hitherto, relatively little interest has been shown in examining the immense gap that exists between the OS grand vision and researchers' actual data practices. Our specific contribution is to examine research data practices before systematic attempts at curation are made. We suggest that interdisciplinary ethnographically-driven contexts offer a perspicuous opportunity to understand the Data Curation and Research Data Management issues that can problematize uptake. These relate to obvious discrepancies between Open Research Data policies and subject-specific research practices and needs. Not least, it opens up questions about how data is constituted in different disciplinary and interdisciplinary contexts. We present a detailed empirical account of interdisciplinary ethnographically-driven research contexts in order to clarify critical aspects of the OS agenda and how to realize its benefits, highlighting three gaps: between policy and practice, in knowledge, and in tool use and development.},
language = {en},
number = {3},
urldate = {2021-04-16},
journal = {Computer Supported Cooperative Work (CSCW)},
author = {Mosconi, Gaia and Li, Qinyu and Randall, Dave and Karasti, Helena and Tolmie, Peter and Barutzky, Jana and Korn, Matthias and Pipek, Volkmar},
month = jun,
year = {2019},
pages = {749--789},
}
2017
---

Mosconi, G., Korn, M., Reuter, C., Tolmie, P., Teli, M. & Pipek, V. (2017)

From Facebook to the Neighbourhood: Infrastructuring of Hybrid Community Engagement

IN Computer Supported Cooperative Work: The Journal of Collaborative Computing (JCSCW), Vol. 26, Pages: 959–1003 doi:10.1007/s10606-017-9291-z
[BibTeX] [Abstract] [Download PDF]

In recent years, social media have increased the resources that individuals and organizations are able to mobilize for the development of socially innovative practices. In this article, we engage with a naturally occurring development in a Trentinian neighbourhood to examine the cooperative interactions amongst members of a local community. The first author and local residents of the neighbourhood participated in online discussions, decision making, and physical activities that led to material changes in the area. The interventions are motivated by and based on the concept of Social Street that combines online interactions in a closed Facebook group with face-to-face meetings seeking to practically engage the collective in accomplishing certain immediate or ongoing needs. Over the course of two years, we studied this local instantiation of Social Street in Trento, Italy by way of an action-oriented (digital) ethnography. Through this work, we demonstrate how urban neighbourhoods might benefit from hybrid forms of community engagement that are enacted through a constant back and forth between online and face-to-face interactions. We further argue that the infrastructuring of local urban collectives should follow strategies that pay attention to the multiple issues in urban neighbourhoods and people's attachments to them. Overall, the paper reflects upon the challenges and configurations of participation that this form of community-work entails.

@article{mosconi_facebook_2017,
title = {From {Facebook} to the {Neighbourhood}: {Infrastructuring} of {Hybrid} {Community} {Engagement}},
volume = {26},
url = {https://link.springer.com/article/10.1007/s10606-017-9291-z},
doi = {10.1007/s10606-017-9291-z},
abstract = {In recent years, social media have increased the resources that individuals and organizations are able to mobilize for the development of socially innovative practices. In this article, we engage with a naturally occurring development in a Trentinian neighbourhood to examine the cooperative interactions amongst members of a local community. The first author and local residents of the neighbourhood participated in online discussions, decision making, and physical activities that led to material changes in the area. The interventions are motivated by and based on the concept of Social Street that combines online interactions in a closed Facebook group with face-to-face meetings seeking to practically engage the collective in accomplishing certain immediate or ongoing needs. Over the course of two years, we studied this local instantiation of Social Street in Trento, Italy by way of an action-oriented (digital) ethnography. Through this work, we demonstrate how urban neighbourhoods might benefit from hybrid forms of community engagement that are enacted through a constant back and forth between online and face-to-face interactions. We further argue that the infrastructuring of local urban collectives should follow strategies that pay attention to the multiple issues in urban neighbourhoods and people's attachments to them. Overall, the paper reflects upon the challenges and configurations of participation that this form of community-work entails.},
number = {4-6},
journal = {Computer Supported Cooperative Work: The Journal of Collaborative Computing (JCSCW)},
author = {Mosconi, Gaia and Korn, Matthias and Reuter, Christian and Tolmie, Peter and Teli, Maurizio and Pipek, Volkmar},
year = {2017},
keywords = {CSCW, HCI, A-Paper, SMO, KOKOS, HyServ},
pages = {959--1003},
}