Fab Lab Siegen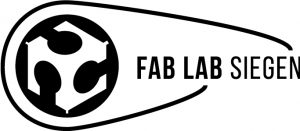 Laufzeit:
seit 2014
Förderung: Universität Siegen
Ansprechpartner:
Das Fab Lab Siegen ist eine für alle offene, interdisziplinäre (Kreativ-)Werkstatt, in der das gemeinschaftliche Arbeiten und Experimentieren mit der Fabrikation (fast) beliebiger Dinge im Vordergrund steht. Fab Labs (Fabrication Laboratories, dt. Fabrikationslabore) sollen Menschen also – unabhängig von Expertise, Ausbildung und Hintergrund – nützlich sein, um Projekte in Austausch und Zusammenarbeit mit anderen planen und umsetzen zu können. Genau diese Möglichkeiten des Austauschen, des Teilens von Wissen sowie die Community sind die mit Abstand wichtigsten Angebote und Ziele eines solchen Labs, von denen es weltweit mittlerweile hunderte gibt. Fab Labs sind eng verwandt mit Hack- und Makerspaces oder, allgemeiner, Innovation Hubs und stehen gerade auch mit der in den Medien in letzter Zeit zunehmend thematisierten Maker-Kultur in Zusammenhang, in der es ebenfalls um Do-It-Yourself und die kreative Nutzung von Technologie geht.
Community & Mitmachen
Das Fab Lab Siegen soll eine Infrastruktur für alle werden, die Interesse haben, sie zu nutzen, aktiv mitzugestalten, Veranstaltungen anzubieten oder Aktivitäten wissenschaftlich zu begleiten. Der Aufbau und die rechtliche sowie versicherungstechnische Ausgestaltung eines solchen Labs an einer Universität ist jedoch Neuland, nicht trivial und aufwändig. Aus diesem Grund wird das Lab derzeit nur für Forschungszwecke experimentell genutzt, was die Daten- und Erfahrungsbasis für die weitere Öffnung liefert. Parallel dazu bieten wir immer wieder experimentelle, aber im Studium anrechenbare Lehrveranstaltungen, externe Workshops, Vorträge, und ähnliches in der Region sowie bundesweit an und arbeiten mit Schulen, Unternehmen, Lehrstühlen und andere Organisationen zu digitaler und verteilter Fabrikation zusammen. Diese Forschungs- und Aufbauphase soll ab Ende August 2016 auch durch offene Tage und Zeiten für alle, regelmäßige, interdisziplinär und interfakultativ offene Lehrveranstaltungen und Workshops im Fab Lab und mehr ausgebaut werden.
Forschung
Das Fab Lab Siegen ist ein Forschungsprojekt der ischool, wobei der Lehrstuhl für Computerunterstützte Gruppenarbeit und Sozialer Medien das Projekt koordiniert.
Das Lab sieht sich als offene Forschungs- und Lehrinfrastruktur, die auch von weiteren KollegInnen sehr gerne aktiv mitgenutzt, mitgetragen und mitgestaltet werden sollte. Erste Beispiele für Siegener Forschungsprojekte, die ein Fab Lab als Infrastruktur und auch als Forschungsgegenstand explizit mitberücksichtigen, sind z.B. ZEIT.RAUM Siegen und YALLAH, aber auch bestehende Projekte können produktiv mit dem Fab Lab zusammenarbeiten, wie aktuelle Gespräche zur Einrichtung eines come_IN Computerclubs im Lab erkennen lassen. Nicht zuletzt stellt auch das Lab selbst einen wichtigen Forschungsgegegstand dar, denn der Aufbau, Betrieb sowie das Finden tragfähiger Organisations-, Finanz- und Lehrmodelle für Fab Labs in Universitäten ist immer noch absolutes Neuland.
Weitere Informationen unter http://fablab-siegen.de/
Publikationen
2019
Designing for Openness in Making: Lessons Learned from a Digital Project Week
Proceedings of the 9th International Conference on Communities & Technologies - Transforming Communities, S. 160–171, ACM, New York, NY, USA, 2019, ISBN: 978-1-4503-7162-9.
Fab:UNIverse - Makerspaces, Fab Labs and Lab Managers in Academia
Proceedings of the FabLearn Europe 2019 Conference, S. 19:1–19:2, ACM, New York, NY, USA, 2019, ISBN: 978-1-4503-6266-5.
2017
3D printing/digital fabrication for education and the common good Workshop for C&T2017
Workshop at the 8th international conference on Communities and Technologies, Troyes, 2017.
Computerclubs und Flüchtlingslager - Ein Diskussionsbeitrag zur Forschungs- und Bildungsarbeit aus praxistheoretischer Perspektive
Tagungsband Do it! Yourself? Fragen zu (Forschungs-)Praktiken des Selbermachens, Wien, 2017.
2016
Infrastructuring & Digital Fabrication
INFORMATIK 2016, Klagenfurt, 2016.
Infrastructuring & Digital Fabrication
INFORMATIK 2016, Klagenfurt, 2016.
2015
3D Printing with Marginalized Children - An Exploration in a Palestinian Refugee Camp
Boulus-Rødje, Nina; Ellingsen, Gunnar; Bratteteig, Tone; Aanestad, Margunn; Bjørn, Pernille (Hrsg.): ECSCW 2015: Proceedings of the 14th European Conference on Computer Supported Cooperative Work, 19-23 September 2015, Oslo, Norway, S. 83–102, Springer, 2015.
Appropriating Digital Fabrication Technologies - A comparative study of two 3D Printing Communities
iConference 2015 Proceedings, Newport Beach, California, 2015.
2014
Come_in@Palestine: Adapting a German Computer Club Concept to a Palestinian Refugee Camp
Proceedings of the 5th ACM International Conference on Collaboration Across Boundaries: Culture, Distance & Technology, S. 111–120, ACM, New York, NY, USA, 2014, ISBN: 978-1-4503-2557-8.
3D Printers as Potential Boundary Negotiating Artifacts for Third Places
Workshop Proceedings of the Designing Interactive Systems Conference (DIS 2014), Vancouver, Canada, 2014.
Computer im Grünen: IT-Systeme zur Unterstützung urbaner Gärten
Butz, Andreas; Koch, Michael; Schlichter, Johann H (Hrsg.): Mensch & Computer: Tagungsband, S. 303–306, De Gruyter Oldenbourg, 2014.
Come_IN: Expanding Computer Clubs Towards Tinkering and Making
Workshop on "Teaching to Tinker" at NordiCHI 2014., 2014.
Towards sociable technologies: an empirical study on designing appropriation infrastructures for 3D printing
Wakkary, Ron; Harrison, Steve; Neustaedter, Carman; Bardzell, Shaowen; Paulos, Eric (Hrsg.): Designing Interactive Systems Conference 2014, DIS '14, Vancouver, BC, Canada, June 21-25, 2014, S. 835–844, ACM, 2014, ISBN: 978-1-4503-2902-6.
Playful, collaborative approaches to 3D modeling and 3D printing
Butz, Andreas; Koch, Michael; Schlichter, Johann H (Hrsg.): Mensch & Computer: Tagungsband, S. 363–366, De Gruyter Oldenbourg, 2014.
Computer Supported Urban Gardening
Proceedings of the 2014 Companion Publication on Designing Interactive Systems, S. 77–80, ACM, New York, NY, USA, 2014, ISBN: 978-1-4503-2903-3.
Bottom-Up Kultur in Siegen: Ein Bericht über aktuelle Strukturen, Entwicklungen und Umnutzungsprozesse
Diagonal, 35 (1), S. 55–70, 2014, ISSN: 0938-7161.