Dr. Aparecido Fabiano Pinatti de Carvalho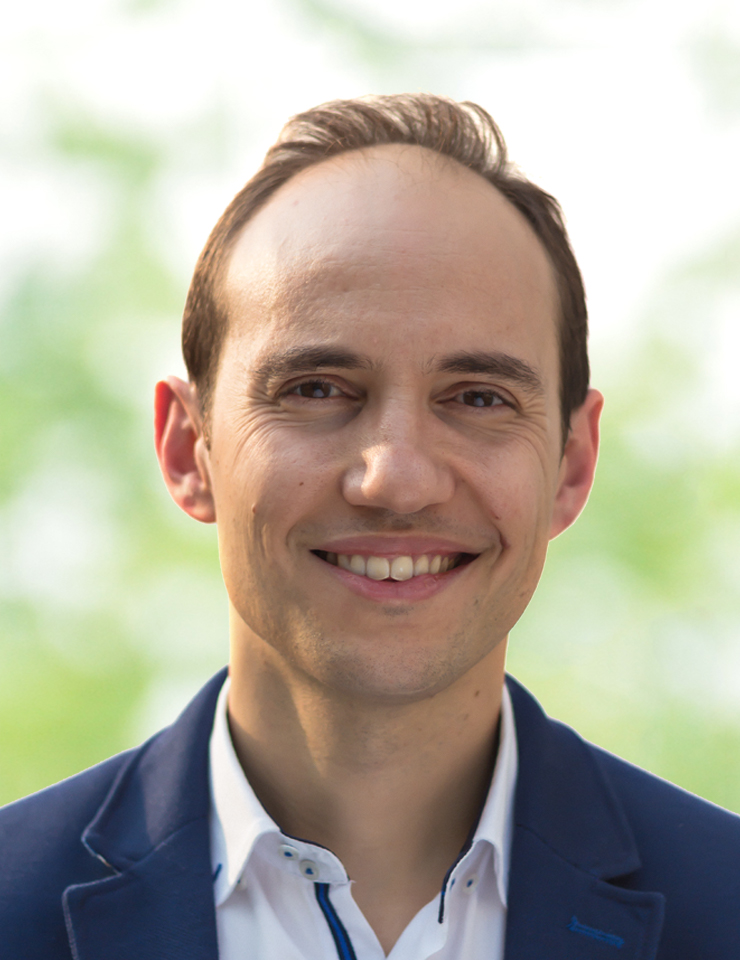 Mail:
fabiano.pinatti@uni-siegen.de
Raum: US-E 116
Telefon: +49 (0) 271/ 740 – 2002
Telefax: +49 (0) 271/ 740 – 3384
Sprechstunde: Nach Vereinbarung
Vita
Dr. Aparecido Fabiano Pinatti de Carvalho ist wissenschaftlicher Mitarbeiter am Lehrstuhl für Wirtschaftsinformatik und Neue Medien und arbeitet in dem von der EU und dem Land NRW geförderten Projekt Cyberrüsten 4.0. Er hält einen B.Sc. und einen M.Sc. in Computer Science der Federal University of São Carlos, São Paulo (Brasilien) sowie einen multidisziplinären PhD in Human-Computer-Interaction der University of Limerick (Irland), der in einem gemeinsamen Projekt zwischen dem Interaction Design Centre und dem Department of Sociology der genannten Universität durchgeführt wurde.Sein Forschungsinteresse liegt in den Bereichen Human-Computer-Interaction, Interaction Design, Computer Supported Cooperative Work, Ubiquitous und Mobile Computing, Mobile und Nomadic Work sowie Informatics in Education. Er arbeitete in verschiedenen internationalen Forschungsprojekten und veröffentlichte zahlreiche Artikel in den genannten Fachbereichen.
Bevor er dem Uni-Siegen-Team beitrat, war er Projektmanager des EU TOPIC Projekt an der Multidisciplinary Design Group der Technischen Universität Wien (Österreich).
Publikationen
2021
Nico Castelli, Aparecido Fabiano Pinatti de Carvalho, Nico Vitt, Sebastian Taugerbeck, Dave Randall, Peter Tolmie, Gunnar Stevens, Volker Wulf (2021) On technology-assisted energy saving: challenges of digital plumbing in industrial settings, Human–Computer Interaction 0(0), S. 1-29, Taylor & Francis, url, doi:10.1080/07370024.2020.1855589

2019
Sven Hoffmann, Aparecido Fabiano Pinatti de Carvalho, Darwin Abele, Marcus Schweitzer, Peter Tolmie, Volker Wulf (2019) Cyber-Physical Systems for Knowledge and Expertise Sharing in Manufacturing Contexts: Towards a Model Enabling Design, Computer Supported Cooperative Work (CSCW), S. 1-41, Springer

Saqib Saeed, Volkmar Pipek, Markus Rohde, Christian Reuter, Aparecido Fabiano Pinatti de Carvalho, Volker Wulf (2019) Nomadic Knowledge Sharing Practices and Challenges: Findings From a Long-Term Case Study, IEEE Access 7, S. 63564-63577, IEEE

2017
Aparecido Fabiano Pinatti de Carvalho, Saqib Saeed, Christian Reuter, Volker Wulf, Aparecido Fabiano Pinatti de Carvalho, Saqib Saeed, Christian Reuter, Volker Wulf (2017) The Role of Technological Infrastructure in Nomadic Practices of a Social Activist Community, Proceedings of the ECSCW-Workshop on Nomadic Culture Beyond Work Practices, International Reports on Socio-Informatics (IRSI) 14(3), S. 41-47, pdf

Breda Gray, Luigina Ciolfi, Aparecido Fabiano Pinatti de Carvalho, Anthony D'Andrea, Lisa Wixted (2017) Post-Fordist reconfigurations of gender, work and life: theory and practice, The British Journal of Sociology, S. 1-23, doi:10.1111/1468-4446.12267

Aparecido Fabiano Pinatti de Carvalho, Luigina Ciolfi, Breda Gray (2017) Detailing a Spectrum of Motivational Forces Shaping Nomadic Practices, Proceedings of the 2017 ACM Conference on Computer-Supported Cooperative Work and Social Computing (CSCW 2017), S. 962-977, doi:10.1145/2998181.2998313

Chiara Rossitto, Aparecido Fabiano Pinatti de Carvalho, Luigina Ciolfi, Airi Lampinen, Breda Gray (2017) Nomadic Cultures Beyond Work Practices, International Reports on Socio-Informatics (IRSI) 14(3), S. 5-14

Matthias Korn, Aparecido Fabiano Pinatti de Carvalho, Amanda Langer, Phillipe Zotz, Volker Wulf, Volkmar Pipek (2017) Nomadic Culture in Academic Settings: Pervasive Commuting and Institutional Support as Defining Elements, International Reports on Socio-Informatics (IRSI) 14(3)

2016
Aparecido Fabiano Pinatti de Carvalho, Hilda Tellioğlu, Susanne Hensely-Schinkinger, Michael Habiger (2016) Supporting Informal Carers' Independency Through Coordinated Care, COOP 2016: Proceedings of the 12th International Conference on the Design of Cooperative Systems, 23-27 May 2016, Trento, Italy, S. 155-172, Cham: Springer International Publishing, url, doi:10.1007/978-3-319-33464-6_10

2015
Hilda Tellioğlu, Susanne Hensely-Schinkinger, Aparecido Fabiano Pinatti de Carvalho (2015) Modes of Independece while Informal Caregiving, Proceedings of the 13th AAATE Conference

Susanne Hensely-Schinkinger, Aparecido Fabiano Pinatti de Carvalho, Michael Glanzinig, Hilda Tellioğlu (2015) The Definition and Use of Personas in the Design of Technologies for Informal Caregivers, HCI International

2014
Hilda Tellio\uglu, Myriam Lewkowicz, Aparecido Fabiano Pinatti De Carvalho, Ivan Brešković, Marén Schorch, Hilda Tellioğlu, Myriam Lewkowicz, Aparecido Fabiano Pinatti De Carvalho, Ivan Brešković, Marén Schorch (2014) Collaboration and Coordination in the Context of Informal Care (CCCiC 2014), Proceedings of the Companion Publication of the 17th ACM Conference on Computer Supported Cooperative Work & Social Computing, S. 339-342, New York, NY, USA: ACM, url, doi:10.1145/2556420.2558862

Luigina Ciolfi, Aparecido Fabiano Pinatti de Carvalho (2014) Work Practices, Nomadicity and the Mediational Role of Technology, Journal of Computer Supported Cooperative Work 23(2), doi:10.1007/s10606-014-9201-6

Aparecido Fabiano Pinatti de Carvalho (2014) Collaborative Work and Its Relationship to Technologically-Mediated Nomadicity, Proceedings of the 11th International Conference on the Design of Cooperative Systems (COOP '14), Chiara Rossitto, Luigina Ciolfi, David Martin, Bernard Conein (Hrsg.), S. 209-224, Nice (France): Springer International Publishing, doi:10.1007/978-3-319-06498-7_13

Hilda Tellioğlu, Myriam Lewkowicz, Aparecido Fabiano Pinatti de Carvalho, Ivan Breskovic, Susanne Hensely-Schinkinger, Matthieu Tixier (2014) Collaboration and Coordination in the Context of Informal Care (CCCiC): Concepts, Methods, and Technologies, Proceedings of the 18th International Conference on Supporting Group Work (GROUP'14), S. 324-327, Sanibel Island, Florida, USA: ACM, doi:10.1145/2660398.2660430

Aparecido Fabiano Pinatti de Carvalho, Hilda Tellioğlu, Susanne Schinkinger, Ivan Breskovic (2014) Designing for Informal Carers' Social Coordination Needs, Workshop on The Role of Artefacts in Social Coordination at the 11th International Conference on the Design of Cooperative Systems (COOP 2014)

Susanne Schinkinger, Aparecido Fabiano Pinatti de Carvalho, Ivan Breskovic, Hilda Tellioğlu (2014) Exploring Social Support Needs of Informal Caregivers, CSCW 2014 Workshop on Collaboration and Coordination in the Context of Informal Care (CCCiC 2014), S. 29-37, Baltimore, MD, USA, February 15, 2014: TU-Wien

Aparecido Fabiano Pinatti de Carvalho, Michael Glanzinig, Susanne Hensely-Schinkinger, Hilda Tellioglu (2014) "Elaborating on Interaction Mechanisms for TOPIC – The Online Platform for Informal Carers", ACM GROUP 2014 Workshop on Collaboration and Coordination in the Context of Informal Care (CCCiC GROUP 2014)

Aparecido Fabiano Pinatti de Carvalho (2014) Book Review, Computer Supported Cooperative Work (CSCW) 23(2), S. 239-243, Springer Netherlands, url, doi:http://dx.doi.org/10.1007/s10606-014-9200-7

2013
Ivan Breskovic, Aparecido Fabiano Pinatti de Carvalho, Susanne Schinkinger, Hilda Tellioğlu (2013) Social Awareness Support for Meeting Informal Carers' Needs: Early Development in TOPIC, Adjunct Proceedings of the 13th European Conference on Computer Supported Cooperative Work (ECSCW 2013), Matthias Korn, Tommaso Colombino, Myriam Lewkowicz (Hrsg.), S. 3-8, Paphos, Cyprus: Department of Computer Science Aarhus University

Aparecido Fabiano Pinatti de Carvalho (2013) Technologically-mediated Nomadicity in Academic Settings: Tm-N as a Dynamic and Emergent Process, Department of Computer Science and Information Systems, S. 359

Aparecido Fabiano Pinatti de Carvalho, Susanne Schinkinger, Ivan Breskovic, Hilda Tellioğlu (2013) Technology for Work-Life Balance in Terms of Informal Care Work, ECSCW 2013 Workshop "CSCW at the Boundary of Work and Life", S. 1-6

2011
Aparecido Fabiano Pinatti de Carvalho, Luigina Ciolfi, Breda Gray (2011) The Making of Nomadic Work: Understanding the Mediational Role of ICTs, Handbook of Research on Mobility and Computing: Evolving Technologies and Ubiquitous Impacts, Maria Manuela Cruz-Cunha, Fernando Moreira (Hrsg.), S. 381-396, Hershey, PA, USA: IGI Global

2010
Aparecido Fabiano Pinatti de Carvalho (2010) Nomadicity, Knowledge Economy and the Mediational Role of ICTs: Open Issues, Proceedings of the 2010 Irish Human Computer Interaction, Daragh Byrne, Hyowon Lee, Alan Smeaton, Luigina Ciolfi (Hrsg.), Dublin: Dublin City University

2009
Aparecido Fabiano Pinatti de Carvalho, Junia Coutinho Anacleto, Vania Paula Almeida Neris (2009) Designing for Culturally Contextualized Learning Activity Planning: Matching Learning Theories and Practice, Human-Computer Interaction - INTERACT 2009: Part II LNCS 5727/, Tom Gross, Jan Gulliksen, Paula Kotzé, Lars Oestreicher, Philippe Palanque, Marco Winckler (Hrsg.), S. 777-790, Berlin/Heidelberg, Germany: Springer, doi:http://dx.doi.org/10.1007/978-3-642-03658-3_82

Davi Buzatto, Junia Coutinho Anacleto, Ana Luiza Dias, Marcos Alexandre Rose Silva, Joana Maria Rosas Villena, Aparecido Fabiano Pinatti de Carvalho (2009) Filling out Learning Objects Metadata Considering Cultural Contextualization, Proceedings of the 2009 International Conference on System, Man and Cybernetics, S. 424-429, Hyatt Regency Riverwalk, San Antonio, Texas, USA: IEEE Computer Society, doi:http://dx.doi.org/10.1109/ICSMC.2009.5346246

Aparecido Fabiano Pinatti de Carvalho, Junia Coutinho Anacleto, Vania Paula Almeida Neris (2009) PACO-T: A Computational Framework for Planning Cultural Contextualized Learning Activities by Using Common Sense, WCCE 2008 LCNS, Berlin/Heidelber: Springer-Verlag

Aparecido Fabiano Pinatti de Carvalho (2009) Technology and Nomadic Work/Life Practices in the Knowledge Economy, Proceedings of the 2009 Irish Human Computer Interaction, Dublin: Dublin Trinity College

Aparecido Fabiano Pinatti de Carvalho, Junia Coutinho Anacleto, Silvia Helena Zem-Mascarenhas (2009) Planning Learning Activities Pedagogically Suitable by Using Common Sense Knowledge, Proceedings of the 2009 Mexican International Conference on Computer Science, S. 330-335, Mexico City: IEEE CS Press, url, doi:http://dx.doi.org/10.1109/ENC.2009.54

2008
Junia Coutinho Anacleto, Aparecido Fabiano Pinatti de Carvalho (2008) Improving Human-Computer Interaction by Developing Culture-sensitive Applications based on Common Sense Knowledge, Human-Computer Interaction: New Developments, Kikuo Asai (Hrsg.), S. 1-30, Croatia: In-Teh

Eliane Pereira, Junia Anacleto, Alexandre Ferreira, Aparecido Fabiano Pinatti de Carvalho, Izaura Carelli (2008) "What is it?": A Culture Sensitive Educational Game, Learning to Live in the Knowledge Society 281, Michael Kendall, Brian Samways (Hrsg.), S. 231-234, New York: Springer US, url, doi:10.1007/978-0-387-09729-9_36

Aparecido Fabiano Pinatti de Carvalho, Junia Coutinho Anacleto, Silvia Helena Zem-Mascarenhas (2008) Learning Activities on Health Care Supported by Common Sense Knowledge, Proceedings of the 23rd Annual ACM Symposium on Applied Computing, S. 1385-1389, Fortaleza: ACM Press, doi:http://doi.acm.org/10.1145/1363686.1364006

Alexandre Ferreira, Eliane Pereira, Junia Anacleto, Aparecido Fabiano Pinatti de Carvalho, Izaura Carelli (2008) The Common Sense-Based Educational Quiz Game Framework "What is it?", Proceedings of the VIII Brazilian Symposium on Human Factors in Computing Systems, S. 338-339, Porto Alegre, RS, Brazil: Brazilian Computing Society (SBC)

Aparecido Fabiano Pinatti de Carvalho, Junia Anacleto (2008) The Improtance of Usability Criteria on Learning Management Systems: Lessons Learned, Proceedings of the 10th International Conference on Enterprise Information Systems HCI, Jose Cordeiro, Joaquim Filipe (Hrsg.), S. 154-159, Barcelona: INSTICC Press

Junia Coutinho Anacleto, Eliane Nascimento Pereira, Alexandre Mello Ferreira, Aparecido Fabiano Pinatti de Carvalho, João Fabro (2008) Culture Sensitive Educational Games Considering Common Sense Knowledge, Proceedings of the 10th International Conference on Enterprise Information Systems, S. 136-141, Barcelona: INSTICC Press

Junia Coutinho Anacleto, Alessandro Jose Francisco Carlos, Aparecido Fabiano Pinatti de Carvalho, Ana Luiza Dias (2008) Bridging the Gap among Cultures: The Challenge faced by Teachers on producing Content for Computer-aided Education, Proceedings of the 26th ACM International Conference on Design of Communication, S. 147-154, Lisbon, Portugal: ACM Press, doi:http://doi.acm.org/10.1145/1456536.1456565

Junia Coutinho Anacleto, Aparecido Fabiano Pinatti de Carvalho, Alexandre Mello Ferreira, Eliane Nascimento Pereira, Alessandro Jose Francisco Carlos (2008) Common Sense-based Applications to Advance Personalized Learning, Proceedings of the 2008 International Conference on System, Man and Cybernetics, S. 3244-3249, Singapore: IEEE Computer Society, doi:http://dx.doi.org/10.1109/ICSMC.2008.4811796

Junia Anacleto, Alessandro Jose Francisco Carlos, Aparecido Fabiano Pinatti de Carvalho, Ana Luiza Dias (2008) How Computers Can Help Teachers to Produce Cultural Sensitive Web-based Learning Material, Proceedings of the VIII Brazilian Symposium on Human Factors in Computing Systems, S. 146-155, Porto Alegre, RS, Brazil: Brazilian Computing Society (SBC)

Junia Coutinho Anacleto, Aparecido Fabiano Pinatti de Carvalho, Eliane Nascimento Pereira, Alexandre Mello Ferreira, Alessandro Jose Francisco Carlos (2008) Machines with Good Sense: How Can Computers Become Capable of Sensible Reasoning?, Artificial Intelligence in Theory and Practice II 276/2008, Max Bramer (Hrsg.), S. 195-204, Boston: Springer-Verlag, doi:10.1007/978-0-387-09695-7_19

Aparecido Fabiano Pinatti de Carvalho, Junia Coutinho Anacleto, Vania Paula Almeida Neris (2008) Supporting Teachers to Plan Culturally Contextualized Learning Activities, Learning to Live in the Knowledge Society 281/2008, Mikael Kendall, Brian Samways (Hrsg.), S. 171-174, Boston: Springer-Verlag, doi:http://dx.doi.org/10.1007/978-0-387-09729-9_26

2007
Aparecido Fabiano Pinatti de Carvalho, Junia Coutinho Anacleto, Silvia Helena Zem-Mascarenhas, Rosely Moralez de Figueiredo (2007) Utiliza{ç}{ã}o de Conhecimento de Senso Comum na Prepara{ç}{ã}o de Profissionais de Sa{ú}de para Interagir com a Popula{ç}{ã}o

Aparecido Fabiano Pinatti de Carvalho, Junia Coutinho Anacleto, Silvia Helena Zem-Mascarenhas (2007) Utiliza{ç}{ã}o de Conhecimento de Senso Comum para o Planejamento de A{ç}{õ}es de Aprendizado Apoiado por Computador, Programa de P{ó}s-Gradua{ç}{ã}o em Ci{ê}ncia da Computa{ç}{ã}o (PPG-CC) Master, S. 241, S{ã}o Carlos: Universidade Federal de S{ã}o Carlos

Vania Paula Almeida Neris, Junia Coutinho Anacleto, Silvia Helena Zem-Mascarenhas, Aparecido Fabiano Pinatti De Carvalho (2007) PACO - A Framework for Planning Learning Activities Supported by Computers, Proceedings of the 18th Brazilian Symposium on Informatics in Education, S. 597-606, S{ã}o Paulo: Brazilian Computing Society

Junia Anacleto, Aparecido Fabiano Pinatti de Carvalho, Muriel de Souza Godoi, Americo Talarico Neto, Vania Paula Almeida Neris (2007) Cognitor: Um Framework Baseado na Linguagem de Padr{õ}es Cog-Learn, Revista Brasileira de Inform{á}tica na Educa{ç}{ã}o (RBIE) 15, S. 32-43

Junia Coutinho Anacleto, Muriel Souza Godoi, Aparecido Fabiano Pinatti de Carvalho, Henry Lieberman (2007) A Common Sense-Based On-Line Assistant for Training Employees, Human-Computer Interaction – INTERACT 2007 4662/2008, Cecília Baranauskas, Philippe Palanque, Julio Abascal, Simone Diniz Junqueira Barbosa (Hrsg.), S. 243-254, Berlin/Heidelberg: Springer-Verlag, doi:10.1007/978-3-540-74796-3_24

Aparecido Fabiano Pinatti de Carvalho, Junia Coutinho Anacleto, Henry Lieberman, Muriel de Souza Godoi, Silvia Helena Zem-Mascarenhas (2007) Using Common Sense for Planning Learning Activities, Proceedings of the 2007 Workshop on Common Sense and Intelligent User Interfaces, S. 1-6

Junia Coutinho Anacleto, Alessandro Jose Francisco Carlos, Aparecido Fabiano Pinatti de Carvalho, Muriel Souza Godoi (2007) Using Common Sense Knowledge to Support Learning Objects Edition and Discovery for Reuse, Proceedings of the 13th Brazilian Symposium on Multimedia and the Web, S. 290-297, Gramado, Brazil: Brazilian Computing Society

2006
Junia Coutinho Anacleto, Aparecido Fabiano Pinatti de Carvalho, Vania Paula de Almeida Neris, Muriel de Souza Godoi, Silvia Helena Zem-Mascarenhas, Americo Talarico Neto, Henry Lieberman (2006) Applying Common Sense to Distance Learning: The Case of Home Care Education, Proceedings of VII Brazilian Symposium on Human Factors in Computing Systems, S. 1-4, Natal, RN, Brazil: ACM, doi:http://dx.doi.org/10.1145/1298023.1298049

Junia Coutinho Anacleto, Henry Lieberman, Aparecido Fabiano Pinatti de Carvalho, Vania Paula Almeida Neris, Muriel de Souza Godoi, Marie Tsutsumi, Jose Espinosa, Americo Talarico Neto, Silvia Helena Zem-Mascarenhas (2006) Using Common Sense to Recognize Cultural Differences, Advances in Artificial Intelligence - IBERAMIA-SBIA 2006 4140/2006, Jaime Simao Sichman, Helder Coelho, Solange Oliveira Rezende (Hrsg.), S. 370-379, Berlin/Heidelberg: Springer-Verlag, doi:10.1007/11874850_41

Junia Coutinho Anacleto, Henry Lieberman, Marie Tsutsumi, Vania Paula Almeida Neris, Aparecido Fabiano Pinatti de Carvalho, Jose Espinosa, Silvia Helena Zem-Mascarenhas, Muriel de Souza Godoi (2006) Can Common Sense Uncover Cultural Differences in Computer Applications?, Artificial Intelligence in Theory and Practice 217/2006, Max Bramer (Hrsg.), S. 1-10, Boston: Springer-Verlag, doi:10.1007/978-0-387-34747-9_1

Junia Coutinho Anacleto, Aparecido Fabiano Pinatti de Carvalho, Vania Paula Almeida Neris, Muriel Souza Godoi, Americo Talarico Neto (2006) How Can Common Sense Support Instructors with Distance Educations?, Proceedings of the 2006 Brazilian Symposium on Informatics and Education, S. 217-226, Bras{í}lia, Brazil: Brazilian Computing Society

Americo Talarico Neto, Junia Coutinho Anacleto, Vania Paula Almeida Neris, Muriel de Souza Godoi, Aparecido Fabiano Pinatti De Carvalho (2006) A Framework to Support the Design of Learning Objects based on the Cog-Learn Pattern Language, Proceedings of the 12th Brazilian Symposium on Multimedia and the Web, Natal, Rio Grande do Norte, Brazil: ACM, doi:http://doi.acm.org/10.1145/1186595.1186612

2005
Aparecido Fabiano Pinatti de Carvalho, Junia Coutinho Anacleto (2005) Extending UWE to Improve Web Navigation Project: A Case Study, Proceedings of the International Conference on Systems, Man, and Cybernetics, S. 2608-2613, Waikoloa: IEEE Computer Society, doi:http://dx.doi.org.proxy.lib.ul.ie/10.1109/ICSMC.2005.1571542

2004
Aparecido Fabiano Pinatti de Carvalho, Junia Coutinho Anacleto (2004) Conceitos de Usabilidade e sua Abrang{ê}ncia no Desenvolvimento de Sistemas Interativos, Revista Eletr{ô}nica de Inicia{ç}{ã}o Cient{í}fica (REIC) 4(4), S. 3

Aparecido Fabiano Pinatti de Carvalho, Junia Coutinho Anacleto, Computing Department (2004) Crit{é}rios para Avalia{ç}{ã}o de Usabilidade em Sistemas Computacionais, RT-DC 004/2001(RT-DC004/2001), S. 76, S{ã}o Carlos: Federal University of S{ã}o Carlos