iStoppFalls: ITC-based System to Predict & Prevent Falls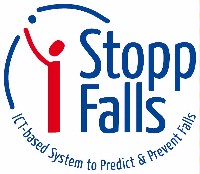 Duration: 2011-2014
Sponsorship: Europäische Kommission
Contact person: Dr. Rainer Wieching
The EU-funded research project named iStoppFalls (ICT based System to Predict and Prevent Falls) started on 1 October 2011.
The aim of iStoppFalls consists of developing ICT-based technologies which can be easily integrated in the daily life practices of older people who live alone and which allow for continuous training, reliable fall risk assessment, and appropriate feed-back, based on discreet measuring technologies and adaptive assistance functions. The project is intended to strengthen collaboration between research and technology to provide tailored solutions for the ageing society, and thus contribute to European competitiveness and excellence.
Whether it is a fall from steps, slippery surfaces or gait unsteadiness due to age-related decline in physical activity, falls and their consequences are a tremendous and growing problem of society, both health and cost-wise. Due to the ongoing changes in the age structure of the population, this problem will further increase in the future. The research field of prophylaxis and prevention of fall related accidents comes more and more into focus of national and international funding programmes to develop innovative, cost effective and suitable solutions. Active fall prevention plays an important role, especially in terms of fall-specific exercises and training programmes. Modern information and communication technologies (ICT) in the field of sensor technology, telemedicine and home entertainment can support such activities – and with a target group-oriented design, they may be also used by elderly people living at home. Effective prevention and reliable prediction of falls are made possible through unobtrusive measuring technologies, as well as adaptive assistance functions.
Dr. Rainer Wieching, manager and initiator of the project at the University of Siegen, Germany, explained that getting elderly citizens to self-train at home, under the guidance and monitoring of an appropriate technology is both a potential asset and a challenge of the research project. "A successful project may lead to an improved quality of life for individuals and to reduced costs for the society," he said.
iStoppFalls is coordinated by the Institute of Information Systems and News Media, University of Siegen under the supervision of Prof. Volker Wulf. It is carried out with several representatives of university institutes and technology companies in Europe and Australia. The research project will be funded by the European Commission under the 7th Framework Programme (FP7) and the Australian Government with approx. € 3,75 million altogether.
Project partners are academia institutions from Austria (AIT Austrian Institute of Technology), Germany (German Sports University), Spain (Instituto de Biomechanica de Valencia) and Australia (Neuroscience Research Australia) as well as industry stakeholders from the Netherlands (Philips Research Europe) and Germany (Kaasa Solution GmbH).
University of Siegen (USiegen) is the scientific & technology (S/T) Coordinator of the whole project. USI will closely collaborate with the content-related research partners (German Sports University Cologne & Neuroscience Research Australia) doing requirements analysis and practical evaluation in real end-user environments in Germany. Together with the Austrian Institute of Technology, USiegen will lead the development of an iTV application to present all Knowledge Based System (KBS) data. All of this includes the development of appropriate user-centred technologies design and methodologies. A framework will be developed for the elicitation of user requirements and practical evaluation in the Living-Lab approach. With support of a network to primary (Vitalis Elderly Homes) and secondary end-user organisations (e.g. care provider, etc.), USiegen will select and accompany end-users and involve them in the technology design process.
More information on www.istoppfalls.eu
Publications
2016
Exploring user experience and technology acceptance for a fall prevention system: results from a randomized clinical trial and a living lab,
European Review of Aging and Physical Activity, 13 (6), pp. 1–9, 2016.
2014
PraxLabs as a Setting for Participatory Technology Research and Design in the Field of HRI and Demography
Proceedings of the Workshop "Socially Assistive Robots for the Aging Population: Are we trapped in Stereotypes?", Human Robot Interaction Conference, Bielefeld University, Bielefeld, 2014.
ICT-based system to predict and prevent falls (iStoppFalls): study protocol for an international multicenter randomized controlled trial.
BMC geriatrics, 14 (1), pp. 91, 2014, ISSN: 1471-2318.
A Fall Preventive iTV Solution for Older Adults
Proceedings of TVX'14, Demo Presentation, pp. 1–2, 2014, ISBN: 978-1-4503-2838-8.
2012
Motivating Elderly People to Use Fall Preventive Exercise Training Games at Home: Are Community Based ICT Features Always a Good Choice?
Designing for Inter/Generational Communities, 28 , 2012.
Empirical analysis of end-user requirements: Designing ICT artifacts for the elderly exercising at home.
Journal of Aging and Physical Activity, 20 , 2012.