Dr. Rainer Wieching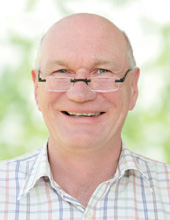 Divisional Director Health and Prevention
Mail: rainer.wieching(at)uni-siegen.de
Room: US-E 118
Phone: +49 (0)271/ 740 – 3019
Office hours: On appointment
Vitae
Dr. Rainer Wieching (sports science graduate, sports teacher, exercise physiologist, project manager and EU coordinator). As part of his work in the health sector, he has coordinated several successful EU and BMBF research projects in the area of health, ageing, care and prevention.
The project iStoppFalls (EU FP7, 2011-2014) focuses on the prevention of falls and the promotion of seniors' physical activity through ICT-based training programs. The project MobiAssist (VDI / VDE, BMBF, 2015-2018) is developing a mobilization assistant to support the care of people with dementia and their relatives. The My AHA (my active and healthy aging) project, (H2020, EU, 2016-2020) aims to improve early detection and reduce the risk of physical frailty and cognitive impairment, depression and falls in old age. In the field of self-learning, adaptive systems, he participates in the project Cognitive Village (VDI / VDE, BMBF, 2015-2018).
Current national and international research projects focus on the use of robotics systems in nursing in an intercultural comparison between Germany and Japan: Project HAPPIER (Healthy Aging Program with Personalized Interactive Empathetic Robots), (DAAD 2018-2019) with the Robotics Institute of Waseda University of Tokyo and Project ARiA (Applied Robotics in the Care of the Elderly in the Working Scenarios of the Future), (BMBF 2018) in Science Year 2018.
For 15 years, he has founded and led a Healthcare SME, responsible for the technical, medical and scientific aspects of Global Pharmaceutical Marketing for Cardiovascular and Oncology. With a focus on pharma marketing, certified medical education (CME), ICT-based communication and information systems on evidence-based medicine (clinical trials and national and international guidelines) and medical technology (ultrasound).
As part of his studies and doctorate, he has researched and worked in the laboratory of the Physiological Institute of the German Sport University Cologne (DSHS Cologne) and in the lung function and performance test laboratory of the Children's Hospital of the Aachen University Hospital (RWTH Aachen), responsible for performance tests, biosignal analysis, data management, Computer algorithms and statistical analysis.
In addition, based on his 8 years in an engineering office, he has extensive experience in system analysis, data modeling and programming of complex real-time process control systems in the energy industry (process data model, measurement and message processing, topology and network calculation).
Publications
2022
2020
2019
2018
2017
2016
2015
2014
2012
1996