Dr. Rainer Wieching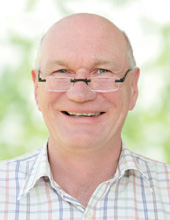 Divisional Director Health and Prevention
Mail: rainer.wieching(at)uni-siegen.de
Room: US-E 118
Phone: +49 (0)271/ 740 – 3019
Office hours: On appointment
Vitae
Dr. Rainer Wieching
(MSc & PhD in Exercise Physiology, Project Manager)During the last 15 years of his professional career, he has headed a health care SME, being responsible for technical, medical & scientific aspects in global pharma marketing & medical education, especially concerning prescription drugs (cardio¬vascular, oncology), evidence based medicine (clinical trials, guidelines), and medical technology (ultrasound).
During his studies and PhD thesis, he has worked in the cardiopulmonary data laboratory of the physiology institute at DSHS Cologne and in the exercise testing laboratory of the clinic for pediatrics at a university hospital (RWTH Aachen), being responsible for exercise testing devices, bio-signal computing algorithms, data management and statistical analysis.
Additionally, he disposes of considerable working experience in system analysis, data modeling and programming of multi-process redundant software systems, gained during an 8 year assignment in a software engineering company.
He has successfully participated in IT/health related national research projects in Germany (BMBF) and has profound experiences in global health care market related aspects (pharma & medical technology).
Publications
2017
Daryoush Vaziri, Konstantin Aal, Yves J Gschwind, Kim Delbaere, Anne Weibert, Janneke Annegarn, Helios de Rosario, Rainer Wieching, David Randall, Volker Wulf (2017) Analysis of effects and usage indicators for a ICT-based fall prevention system in community dwelling older adults, International Journal of Human-Computer Studies 106(February), p. 10-25, Elsevier Ltd, doi:10.1016/j.ijhcs.2017.05.004

2016
Daryoush Vaziri, Konstantin Aal, Corinna Ogonowski, Michael Kroll Thomas von Rekowski, Hannah Marston, Rakel Poveda, Yves Gschwind, Kim Delbaere, Rainer Wieching, Volker Wulf (2016) Exploring user experience and technology acceptance for a fall prevention system: results from a randomized clinical trial and a living lab,, European Review of Aging and Physical Activity 13(6), p. 1-9

Corinna Ogonowski, Konstantin Aal, Daryoush Vaziri, Thomas Von Rekowski, Dave Randall, Dirk Schreiber, Rainer Wieching, Volker Wulf (2016) ICT-Based Fall Prevention System for Older Adults: Qualitative Results from a Long-Term Field Study, ACM Trans. Comput.-Hum. Interact. 23(5), p. 29:1--29:33, New York, NY, USA: ACM, url, doi:10.1145/2967102

2014
Yves J Gschwind, Sabine Eichberg, Hannah Marston, Andreas Ejupi, Helios de Rosario, Michael Kroll, Mario Drobics, Janneke Annegarn, Rainer Wieching, Stephen R Lord, Konstantin Aal, Kim Delbaere (2014) ICT-based system to predict and prevent falls (iStoppFalls): study protocol for an international multicenter randomized controlled trial., BMC geriatrics 14(1), p. 91, url, doi:10.1186/1471-2318-14-91

Konstantin Aal, Corinna Ogonowski, Thomas Von Rekowski, Rainer Wieching, Volker Wulf (2014) A Fall Preventive iTV Solution for Older Adults, Proceedings of TVX'14, Demo Presentation, p. 1-2

Claudia Müller, Marén Schorch, Rainer Wieching (2014) PraxLabs as a Setting for Participatory Technology Research and Design in the Field of HRI and Demography, Proceedings of the Workshop "Socially Assistive Robots for the Aging Population: Are we trapped in Stereotypes?", Human Robot Interaction Conference, Bielefeld: Bielefeld University

2012
Johanna Meurer, Rainer Wieching (2012) Motivating Elderly People to Use Fall Preventive Exercise Training Games at Home: Are Community Based ICT Features Always a Good Choice?, Designing for Inter/Generational Communities 28

Johanna Meurer, Sima Schöning, Rainer Wieching (2012) Empirical analysis of end-user requirements: Designing ICT artifacts for the elderly exercising at home., Journal of Aging and Physical Activity 20