Dipl.-Wirt.Inform. Christoph Kotthaus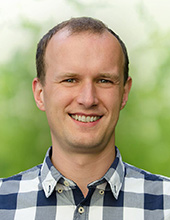 Mail:
christoph.kotthaus(at)uni-siegen.de
Room: US-D 102
Phone: +49 271 740-2297
Office hours: By appointment
Vitae
Christoph Kotthaus studied information sciences at the University of Siegen. His research interest concerns mobile and ubiquitous computing. As a student assistant he worked in a research project called INFOSTROM, in which he was significantly involved in the development of a geo information system (GIS). He wrote his diploma theses about "Concepts for Mobile Device Management", in which he developed application possibilities, introduction and integration of mobile devices (smartphones, tablets) into the infrastructure of (industrial) companies inside a rail technology company. After his diploma thesis he worked as project manager in this company until he went back to the University of Siegen as a research associate in the field of computer supported cooperative work and social media at the institute of information sciences.
Publications
2022
2020
2019
2018
2017
2016
2015