Johanna Meurer M.A.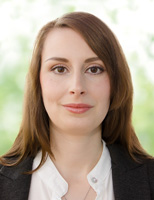 Mail:
johanna.meurer(at)uni-siegen.de
Room: US-E 119
Phone: +49 (0) 271/ 740 – 4129
Office hours: On appointment
Vita
Johanna is a research associate and PhD student at University Siegen. The starting point of her work is the increasing digitization of mobility and city infrastructures. For this purpose, she is particularly interested in developing socio-technical solutions to ensure the inclusion of users in those processes. Therefore, Johanna is developing participatory design approaches for open sharing, open data and smart data solutions in divers settings of mobility ecosystems. In her former works she e.g. worked on ride-sharing solutions for senior citizens and approached to improve the literacy and accountability of sustainable mobility. Currently, she is working on 'mobile crowed sensing' tools to foster user-centered mobility planning in a German city. Johanna is also working on participation and inclusion strategies with particular user groups, like those of elderly people.
Research
Component-based End User Development
iStoppFalls
Sehr Mobil 100
Presentations
"Introduction of the PRAXLABS approach as Living Lab Reasearch for sustainable research": International Sustainability Transformation (IST) Conference 2016, Wuppertal.
"Spatial Senisng in Mobility Research": Ortsbasierte Anwendungen und Dienste (LABS) 2015, 12. GI/ITG KuVS-Fachgespräch, Siegen.
"Untersuchung und Unterstützung von Mobilitätspraxen bei Senioren mit mobilen ICT Lösungen": AAL Kongress 2014, Berlin.
Designing mobile ICT supporting senior's mobility. AAL Kongress 2013, Berlin.
"Together mobile: Practices of shared car rides with older adults": Global Conference On Mobility Futures, Global Conference On Mobility Futures, 2013, Lancaster, England.
"Der Einsatz von IKT-Lösungen bei älteren Zuhause – am Beispiel einer iTV-Lösung": 4. Niederrheinischer Pflegekongress 2012, Neuss.
"The challenge of establishing general goals from the perspective of individual community members. The Open Source-Developer as Knowledge – Worker" April 2011, at the Irish Software Engineering Research Centre (Lero) Limerick University, Ireland.
"Designing for older adults playing full body-motion-based exergames at home"; 8th World Congress on Active Ageing; 2012, Glasgow, Scottland.
"Eine ethnomethodologische Untersuchung der Wissensarbeit von professionellen Open Source Entwicklern am Beispiel von Entscheidungsfindungsprozesses"; Bielefeld Graduate School, Juni 2011, Bielefeld.
"Open Source Developers Performing on a Public Stage – The structural changes of a software developer's work by using Open Source Software". Oxford e-Research Cluster: Innovative Media for a Digital Economy, 26.-27. March 2010, London. England.
Publications
2022
2020
2019
2018
2017
2016
2015
2014
2013
2012
2011
2010
2009
2008
More information are only available in German. Please see: