Dr. Rainer Wieching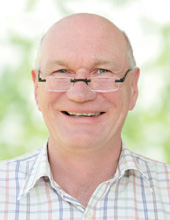 Bereichsleiter Gesundheit und Prävention
Mail: rainer.wieching(at)uni-siegen.de
Raum: US-E 118
Telefon: +49 (0)271/ 740 – 3019
Sprechstunde: Nach Vereinbarung
Vita
Dr. Rainer Wieching (Dr. Sportwiss. Dipl. Sportlehrer, Physiologe, Projektleiter und Koordinator). Im Rahmen seiner Tätigkeit im Gesundheitsbereich hat er mehrere erfolgreiche EU und BMBF Forschungsprojekte im Bereich Gesundheit, Pflege und Prävention koordiniert.
Das Projekt iStoppFalls (EU FP7, 2011-2014) richtet sich auf Sturzprävention und Bewegungsförderung von Senioren mittels IKT-basierten Trainingsprogrammen. Das Projekt MobiAssist (VDI/VDE, BMBF, 2015-2018) entwickelt einen Mobilisierungsassistenten für die Pflege von Menschen mit Demenz und deren Angehörige. Das EU Projekt my-AHA (my active and healthy ageing), (H2020, EU, 2016-2020) dient dazu, eine Verbesserung der Früherkennung sowie die Risikobegrenzung von körperlicher Gebrechlichkeit und kognitiven Beeinträchtigungen, Depressionen und Stürzen im Alter zu entwickeln. Im Bereich der selbstlernenden, adaptiven Systeme ist er am Projekt Cognitive Village (VDI/VDE, BMBF, 2015-2018) beteiligt.
Aktuelle Nationale und Internationale Forschungsprojekte fokussieren den Einsatz von Robotik-Systemen in der Pflege im interkulturellen Vergleich zw. Deutschland und Japan: Projekt HAPPIER (Healthy Ageing Program with Personalized Interactive Empathetic Robots), (DAAD 2018-2019) mit dem Robotik-Institut der Waseda Universität Tokyo und Projekt ARiA (Anwendungsnahe Robotik in der Altenpflege in den Arbeitswelten der Zukunft), (BMBF 2018) im Wissenschaftsjahr 2018.
15 Jahre seiner beruflichen Laufbahn hat er ein KMU im Gesundheitsbereich gegründet und geleitet, verantwortlich für technische, medizinische und wissenschaftliche Aspekte im Bereich des globalen Pharmamarketings für Herz-Kreislauf und Onkologie. Mit Fokussierung auf Pharmamarketing, zertifizierte medizinische Ausbildung (CME), IKT-basierte Kommunikations- und Informationssysteme zu evidenzbasierter Medizin (klinische Studien und nationale bzw. internationale Leitlinien) sowie Medizintechnik (Ultraschall).
Im Rahmen seiner Studien und Promotion, hat er im leistungsphysiologischen Labor des Physiologischen Instituts der Deutschen Sporthochschule Köln (DSHS Köln) und im Lungenfunktions- und Leistungstestlabor der Kinderklinik der Universitätsklinik Aachen (RWTH Aachen) geforscht und gearbeitet, verantwortlich für Leistungstests, Biosignalanalyse, Datenmanagement, Computeralgorithmen und statistische Analyse.
Darüber hinaus verfügt er basierend auf seiner 8-jahrigen Anstellung in einem Ingenieurbüro über umfangreiche Erfahrungen in der Systemanalyse, Datenmodellierung und Programmierung von komplexen Echtzeit Prozessleitsystemen in der Energiewirtschaft (Prozessdatenmodell, Messwert- und Meldungsverarbeitung, Topologie- und Netzberechnung).
Publikationen
2022
2020
2019
2018
2017
2016
2015
2014
2012
1996